More surrogate mothers trigger moral debates
By Shan Juan (China Daily)
Updated: 2009-10-16 08:07
Legal loopholes are allowing surrogacy agencies in China to cash in on the underground womb-to-rent business, sparking debates on ethics among the public.
Underground networks of surrogacy agents, hospitals, and doctors have sprung up in recent years as infertile Chinese couples with money hire surrogate mothers to have babies for them.
"We know it's not legal but it's worth the risk as my husband and I really want a baby to complete the family," said a 36-year-old woman surnamed Fang in Shenzhen, whose attempts to conceive never succeeded.
Their surrogate, a 23-year-old village girl, is two months pregnant. Fang and her husband paid nearly 100,000 yuan ($14,600), which included 60,000 yuan for the girl to pay her father's medical bills.
Xiao Yun (alias) has twice given birth to a child she will not raise.
"For the second time in 2006 I even inseminated myself, with the sperm of the husband of another woman, and later gave birth to the child, whom I would never meet again," recalled the 32-year-old woman who migrated to Guangzhou from her hometown village in Sichuan eight years ago.
Her motivation was financial.
"I've no choice as I have my own children to support," said the widow, who has earned 170,000 yuan for being a surrogate. "I'm not ashamed of what I did and feel happy to help those in need," she said.
The brokers who match couples with surrogate mothers feel the same way.
Liu Baojun, 31, who runs Daiyun.com, a surrogate agency headquartered in Ningbo, Zhejiang province, said his agency connects prospective parents with surrogate mothers in a legal and professional manner.
"We have brought happiness to dozens of infertile couples through our services," he said. "For each successful match, the agency gets at least 10,000 yuan."
Such agencies recruit girls, often from poor villages, to have babies on behalf of prospective parents, industry insiders said.
The paid surrogates in return get a certain amount of cash compensation in addition to their living expenses, rent, medical fees and transportation. The sum is usually calculated based on the surrogate's two-year salary, according to an agent surnamed Liu at a Shenzhen-based surrogacy agent. The number and scale of surrogacy agencies continue to rise despite the strict ban on surrogacy imposed by the Ministry of Health in 2001.
As of 2007, nearly 100 medical institutions nationwide have been authorized by the Ministry of Health to carry out assisted reproductive technologies (ART), according to latest official statistics.
But they are prohibited from using the technology for commercial use like the surrogacy.
Any hospitals who are found to be involved in such practices would have their ART licenses revoked. However, many still take the risk for fat profits.
All medical procedures including in-vitro fertilization and child delivery are arranged by the agency at local key public hospitals qualified for ART to guarantee smooth procedures and healthy babies, said Liu.
"We have good and long- term cooperation with their directors," she explained.
Besides the ministry ban on surrogacy, there is no law outlawing the practice of surrogacy agencies, experts said. They urged the authorities to better regulate the situation.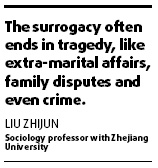 Liu Zhijun, a sociology professor with Zhejiang University, said surrogacy should be ended since it is against social morals.
"The surrogacy often ends in tragedy, like extra-marital affairs, family disputes and even crime," he added.
However, supporters of surrogacy respond that a total ban would prompt those who want children to turn to ways that are more harmful to society, which might increase scams, extortion and other crimes.